Whitley Hadley (she/they)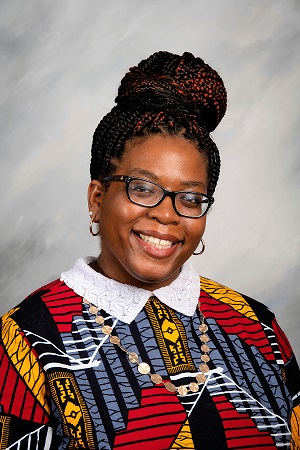 Whitley Hadley (she/they)
Director of the MOSAIC and LGBTQ+ Resource Center
Division of Student Affairs
1420 Austin Bluffs Parkway
University Center, Room 110
Colorado Springs, CO.
8:00 a.m. - 4:30 p.m, Monday through Friday

Students are welcome to schedule meetings via Starfish, email or phone.
Staff, faculty, and community members are welcome to schedule meetings via email or phone.
About Whitley Hadley
Whitley Hadley '13 (she/they), serves as the director of the multicultural office for student access, inclusiveness, and community (MOSAIC) and the LGBTQ+ Resource Center at UCCS. Hadley finds joy in cultivating inclusive, affirming, fun, and intellectually enriching spaces with students. Their professional experiences have heavily leaned towards cultural preservation and exploration, leadership development, and cultural center management.
Hadley is a first-generation alumna of UCCS and holds a dual bachelor's degree in Communication and in Women's and Ethnic Studies. As a student she was heavily involved in the Black Student Union, Phi Sigma Sigma sorority, Clyde's Guides, the step and dance team, and served as a Peer Leader for GPS.
Hadley also has a master's degree in Student Affairs in Higher Education (SAHE) from Colorado State University (CSU). Their portfolio focused on Black women's identity development and leadership at predominantly white institutions (PWI). While in the CSU SAHE program she held an assistantship with the Student Leadership, Involvement, and Community Engagement (SLiCE) office, participated in an education abroad experience to Doha, Qatar, and had practicums with the Black, African American Cultural Center (B/AACC), International Education, and in Student Life at Langston University (a historically Black university- HBCU) in Oklahoma.
Prior to their role at UCCS, they served as the associate director for multicultural affairs at Smith College- a historically women's institution in Massachusetts. She has also served as the Inclusion Program Coordinator at the University of Nevada, Las Vegas (UNLV)- an emerging Minority Serving Institution.
For community and restoration, Hadley enjoys dancing to pop, hip hop, jazz funk, and house music, reading contemporary romance and historical fiction novels, video calls and vacations with friends, short walks to absorb the sun, game nights with her family, crafting, TikTok scrolling, and practicing her French.